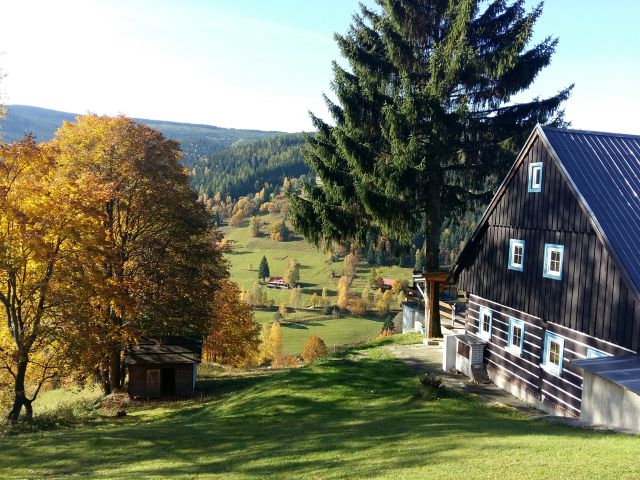 Cottage for rent - ideal vacation with children
At the cottage At the game ou can enjoy the sun from dawn to evening blush. The view from the terrace will captivate you. The mountain meadow around the cottage is a great and especially safe place for children. Here you can "get out of sight" for a while. Enjoy peace and quiet and relax while the children run around the meadow. There is children's playground close to the cottage.
Are you looking for cottages and chalets for rent? Look no further!
Cottage Na hráni can be found in the eastern Giant Mountains in Pec pod Sněžkou, directly in the local part of Velká Úpa. This location is part of the Krkonoše National Park and a great place for small and large trips.
Holiday 2024
The cottage has a capacity of 20 people and is ideal for a family vacation with friends. For the summer holidays 2024 (July, August) you can rent it for a whole week. In the months outside the summer holidays, we also accept orders for shorter stays, such as an extended weekend.
Tips for trips - Giant Mountains
Following the traditional route of mountain carriers, you can head to Sněžka from Velká Úpa. However, a cable car will also take you from Pec pod Sněžkou to the highest Czech mountain. Within walking distance is the interactive playground Game Landscape Pecka. Velká Úpa is part of the ČERNÁ HORA - PEC ski resort and you can go directly from Velká Úpa to the ridges by the Portášky chairlift.